Peace and tranquillity are not words often used to describe staying on a holiday resort. Though, not all holiday resorts have the benefit of fronting the beautiful scenery of the Italian Lakes.
The Golfo Gabella Resort sits along Lake Maggiore, one of the most tranquil of the Italian Lakes. Whilst, perhaps a little less known than Lake Garda and Lake Como, Lake Maggiore is, in fact, the second largest of the Italian Lakes.
Observing the lull of the water, mountains and greenery, peppered here and there with a golden autumn glow; it's easy to unwind and appreciate the beauty of the resort's surroundings.
Though, this quiet and authentic area of Lake Maggiore is far from boring for those looking for a more active break, as I soon discovered…
A holiday at the Golfo Gabella Resort is as relaxing or active as you want it to be.
The Golfo Gabella Resort boasts a large swimming pool, hot tub and a small kids pool, all overlooking the picturesque lakefront; offering a peaceful setting for the ultimate relaxation time. Books are also available if you forget to bring your own.
Free to use electric bikes and kayaks enable an active stay, as well as the chance to explore the scenery nearby.
For those looking to venture a little further afield, boat hire is available along the waterfront enabling you to take a boat out at your own pace to visit pretty towns such as Cannobio. A water taxi stand is located opposite the hotel front to take guests to the popular Cannobio Sunday Market.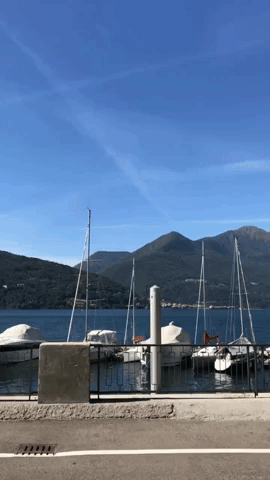 The apartments at Golfo Gabella all provide a large space to relax with an open-plan kitchen area, dining area and additional outside terrace. Handy features such as free WiFi/air-conditioning, kettle, dishwasher, full-length mirror and heating make the stay that much more comfortable. The hair-dryer in the room made getting ready that much easier, as well as saved valuable space in my hand-luggage (click here to read my Italian Lakes Autumn Packing Guide.)
One of the things I like most about the resort is the variety of apartments available to suit various budgets. From a more simplistic stay to sleek modern apartments, to suit both couples and groups of families; there are apartments available to suit all needs.
You can't help but be wowed by not only the views but also the design of some of the apartments. The trendy apartment shown below has a mirrored tv, additional foldaway beds and kitchen area as well as cubby WC with lakeside views!
I bet some deep thinking goes on whilst sitting on this toilet! 
Before you think this apartment looks far too exposed for your liking, you will be glad to know blinds can be drawn to shield the bathroom area and windows!
It's adaptable spaces such as these that really enable guests to enjoy a holiday at Golfo Gabella Resort, as they have the freedom to alter their living space to their own requirements.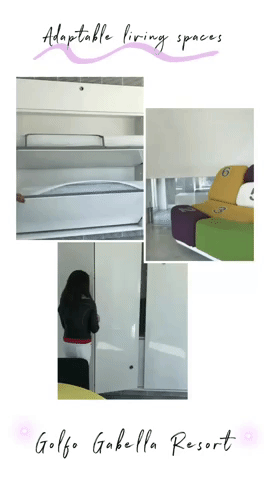 For peace of mind, the Golfo Gabella Resort is gated with access granted via a resort key and on arrival, you are allocated a car parking space in the secure underground parking area. Great features for those travelling with a young family, or who like me, get paranoid about the wellbeing of the hire car!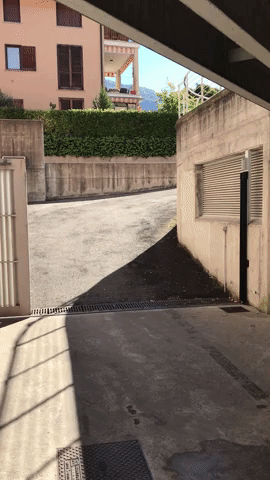 Make like the Italians and enjoy a coffee and a croissant for breakfast in the onsite cafe bar or on warmer days out on the terrace. And why not, Italians are known for having the best coffee in the world!
I can verify the chocolate croissants are very tasty too! 
And for the evenings, especially after long days of exploring you will be glad to know the onsite restaurant has a fantastic menu. 
In fact, Adam and I dined twice at Ottone, the sleek onsite restaurant during our five-night stay. The restaurant is modern (check out the light-up taps) but also has a rustic feel with alcoves and exposed stone walls.
We enjoyed a bottle of Pinot Grigio on both nights we dined, as well as enjoyed some classic Italian dishes; pizza (for Adam) and seafood ragu pasta for me. I particularly loved the grilled picagna with spicy baked potato and chocolate cake with a melting heart, berries and pistachio ice cream.
Adam and I shared this pudding on our first visit but I had to have one to myself on our second visit!
The small town of Maccagno is under five minutes walking distance from the Golfo Gabella Resort, where you will find a supermarket as well as a smattering of cafes and restaurants. We enjoyed a cappuccino and a cake or two at Cerinotti Cafe and a pizza at Bar Ristorante Italia during our stay. We even used the local takeaway restaurant one night after a long day exploring.
Our host's Bookings For You kindly arranged a cooking masterclass with local chef Alessio, who owns intimate mountain restaurant Osteria D'Alberto. You can read about this cooking experience by clicking here.
Holiday at Golfo Gabella Resort
All in all, a holiday at Golfo Gabella Resort gave us a haven on the pretty Italian Lakes where we enjoyed peace and tranquillity, within an easy distance to explore all Lake Maggiore has to offer as a tourist destination. 
We hired a car, which we picked up from the airport and took us around 1 hour 30 mins to drive. A car hire enabled us to really explore the area, though it is possible to get the train from the airport to the resort.
If basking in the enchanting lakeside views doesn't quite quench your appetite, and like us, you want to explore more of the area; adventures await nearby. The stunning Borromean Islands are a drive and short boat ride away as well as the daring mountain bucket lifts. To our delight, the Swiss Border is only a 45-minute drive along Lake Maggiore, where we enjoyed a splash park, cable car ride and a hair-raising mountaintop rollercoaster.
Stay tuned on The Life of a Social Butterfly to read more about these exciting experiences and never miss a post by signing up to the newsletter.
Special thanks to the Golfo Gabella Resort for my stay on their picturesque complex and to Bookings For You for giving me the opportunity to explore yet another wonderful area of Italy.
Read all my Italy posts by clicking here.
Have you visited Lake Maggiore or one of the other Italian Lakes? Let me know below.
Jaz
xoxo
Pin this post to your Pinterest board: