The Black Horse in Great Linford Milton Keynes has been given a contemporary new look and I was lucky enough to check out the new look and new menu.
Local Dining at The Black Horse Great Linford Milton Keynes
When it comes to dining locally, there are places we all wish we had visited more often. For me, one of those places is The Black Horse at Great Linford in Milton Keynes. Though it could be said, it's not from my lack of trying. On previous attempts to dine, the restaurant has always been fully booked or I do what I always do and miss the turning for the car park! If there is a sign for the car park, I sure as hell always miss it and we all know with a dual carriageway there is no turning back!
However, when an invitation to check out the newly refurbished pub and Autumn menu arrived in my inbox, I certainly wasn't going to miss the turning this time around!
A sharp 60 mile an hour brake and a few disgruntled looks from cars exiting the car park on my failure to indicate marked my arrival to the exciting press launch.
Contemporary New Look at The Black Horse
Whilst it had undoubtedly been a while since I'd ventured through the doors, I was immediately wowed by the new look of The Black Horse. 
Transformed from what I recall was quite a dark and rustic entrance to the bar area; a bright warm welcome awaits and not just from the decor.
General Manager Raz and his team eagerly greeted guests to the press evening on arrival, and it was evident they were just as excited about the new look and launch as we were.
On arrival, we were invited over to the gin infusion table to add our preferences to a glass of Tanqueray gin. From juniper berries, fruit peels to petals; there were garnishes to suit all.
Unlike most, I am yet to find 'my gin' but I did enjoy the one at the event as it was sweeter than others I had tried. Though, I think I would have felt rather sloshed if it had been my tipple for the remainder of the evening!
The Black Horse has a fabulous selection for gin lovers and they now have the perfect area to enjoy a drink or two.
The part of the refurb that has the most 'wow factor' is undoubtedly the outside terrace area. The terrace already enjoys picturesque views out to the Grand Union Canal and the new addition of flowered greenhouse seating pods gives the area a unique and social vibe.
Unfortunately, as the food was beckoning and it was rather dark outside, I did not get the chance to see new look terrace in the sunshine. Though, I imagine the scenery is incredible with all the autumn hues and sunset reflections on the canal on days similar to that of the press launch.
With mulled wine in the winter and ciders in the summer, I can see this outdoor terrace being very popular with locals in Milton Keynes.
Areas such as the outside terrace and the gin infusion table gave Adam and I a chance to mingle with our friends Nikki and Chris.
Food Glorious Food
We were surprised with an array of canapés, which we enjoyed whilst listening to the entertainment provided for the event. In fact, we were enjoying the food, drinks and catching up so much that forgot to go to our table and found ourselves very full from the canapés. I often find eating canapés a bit like a game of roulette and it's the luck of the draw whether you pick something tasty or perhaps take a bite of something you wish you hadn't. There was no fear of that at The Black Horse as all the canapés were delicious and had very generous portion sizes too.
The canapés consisted of lobster and crab croquettes, scallops, falafels, crispy duck, pork belly, deep fried brie, pate and mini fish n chips. Now, you can imagine how full we all were after eating the canapés!
We waddled to our dining table on the first floor where I had the opportunity to mingle with the other MK bloggers in attendance.
We were all impressed with the menu and it was difficult choosing what to drink, let alone eat. Our waitress, Marcella was extremely patient and on her third attempt at taking our drinks orders, we had finally made a decision.
My favourite drink of the evening had to be the Blood Orange and Passionfruit Collins as it had the perfect blend of sweetness to the alcohol and is a very refreshing drink indeed. Come to think of it, I'm not sure if it was a drink I ordered or one of Nikki's (sorry Nikki if you're reading!)
Our perusal of the starters sparked a discussion about garlic mushrooms, with Chris not liking mushrooms and Adam not liking garlic; needless to say, this wasn't a starter either of them chose. Luckily, Nikki and I were not about to choose the garlic mushrooms after that conversation either…
After a significant amount of time perusing the menu and failing to come to any kind of decision for a starter, Nikki and I decided to share the camembert served with warm dough sticks.
It probably wasn't the wisest choice after the considerable amount of canapés we had eaten, but who can say no to camembert!
Adam ordered the soup of the day (carrot and coriander) and Chris ordered the crispy karaage chicken served with warm katsu sauce.
The choice for mains was one of the hardest decisions to make as The Black Horse has intriguing dishes on top of the usual pub classics.
A huge selection of pizzas, pork belly and lamb dishes are available. Though, it was the fish dishes on the menu that caught my eye. I will certainly be back to try the lobster and crab fish cakes topped with crispy seaweed, seared salmon with chorizo mash and pan-fried seabass with Parmentier potatoes and pancetta.
Though, on the night (recovering from a cold) my heart was telling me chicken, leek and creme fraiche pie but, my stomach was telling me "go for something lighter Jaz, you're bloated as hell!"
In the end, I opted for the king prawn, crab and chorizo linguine as it is a dish I particularly love on holiday and I was having some serious holiday blues after returning from Lake Maggiore in Italy.
Adam enjoyed a steak, Chris had his staple chicken dish and Nikki chose the lamb.
There were no complaints with any of the dishes and the lamb, in particular, looked very tasty!
In comparison, I have to admit I wasn't wowed by my linguine as I found it to be slightly bland without the white wine and tomato sauce I was expecting. Infused with lemon, the linguine had more of a zesty flavour to it.
Though, this could only mean I would have to get things back on track with a dessert…
Apologies, if you're feeling a tad on the full side yourself after reading all this. But, I can't go in half-heartedly without experiencing all that The Black Horse has to offer.
As a happy compromise after finding ourselves yet again torn between two dishes, Nikki and I shared the mango, berry & coconut meringue mess and the melting chocolate & peanut bomb.
Despite Eton mess being my all-time favourite dessert, the real star of the show has to be the melting chocolate & peanut bomb.
Served with Bourbon vanilla ice cream and hot salted caramel sauce, the dessert has a sweet, silky taste to it, which will please all sweet-toothed lovers.
Scattered edible petals surround the gold chocolate bomb. It's such a pretty dessert I had to grab a snap before the inevitable…
Pouring the hot salted caramel sauce onto the bomb infuses the chocolate and melts the outer layer to reveal the pudding inside.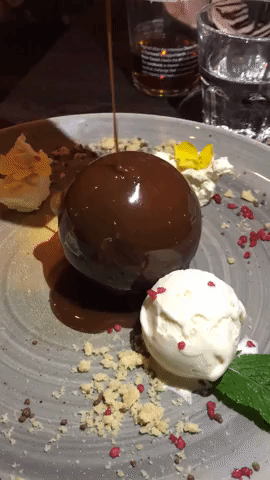 It's a delightful dessert and I'd be lying if I didn't say my mouth is watering as I write this post. Serious withdrawals…go eat it! To top it off, it also comes with popping candy!
A very sweet end to what was a very enjoyable social evening.
The Black Horse Great Linford – Overall Thoughts
The Black Horse team provided us with a thoroughly enjoyable social dining experience and the new look, complete with warm tones, rustic and metallic features really give the pub a welcoming vibe.
The Black Horse, Great Linford retains its cosy country pub atmosphere and classic pub menu, though the new additions such as the outdoor seating give it a new edge, which is reflected in the menu prices at the upper end of the scale for pub dining.
Perfect for a special occasion, upcoming festivities and Christmas meals with colleagues. I certainly look forward to trying out some of the other items on the menu I had my eye on. 
The Black Horse
Wolverton Rd,
Great Linford,
Milton Keynes
MK14 5AJ
Tel: 01908 398461
Website: https://www.theblackhorsegreatlinford.co.uk
Have you checked out the new look Black Horse, Great Linford?
Jaz